Managing contracts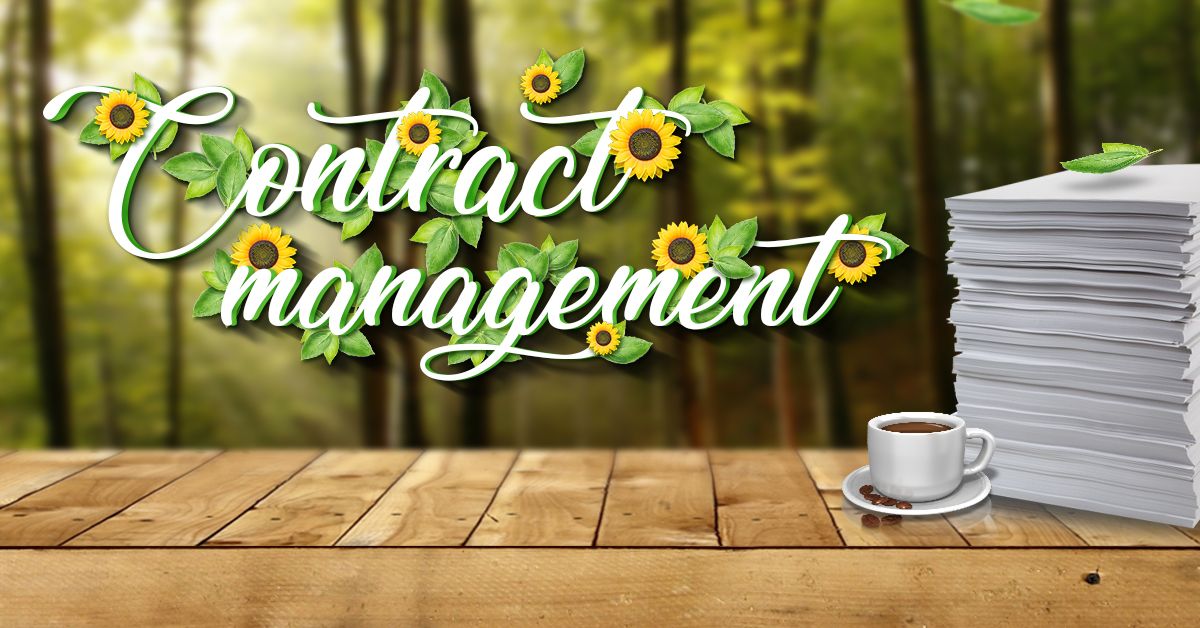 When two organizations wish to do business with each other, a contract is needed to specify the activities both parties enter into and the terms by which they will deliver their parts of the agreement. Poorly phrased contracts can cost a company a huge amount of money over some technicality. Hence, even for small companies, managing these contracts might seem a big deal. But, imagine if you have to deal with tens or hundreds of contracts with suppliers and clients. Will you be able to keep track of deliverables and other terms of contracts? Will you be able to fulfill your obligations and ensure that your rights are enforced faithfully throughout the duration of the project or even beyond?
Why Contract Management System?
Contracts ought not to be mysterious. Nor should be their management. These tenets can guide us in forging a better contract management system:
Business rules are effectively enforced. A contract management system minimizes errors that a company can make. Through such management, resources can be saved, and errors and potential penalties can be avoided. It enables the faithful adherence to business rules.

Risks are carefully assessed and managed. Legal, financial, procurement, and logistical risks need to be mitigated and managed to pave the way to greater profitability. In contract management, risk is an uncertainty of outcome, whether it's a positive opportunity or a negative threat. These are managed by identifying and controlling the factors that may have an impact on the fulfillment of the contract.

Requirements are duly complied with. Legal requirements, company policies, and client requirements are kept track continuously to ensure compliance to the deliverables at hand. Through a contract management system, the duties and responsibilities of both parties are efficiently enforced.

Expected revenue is accurately forecasted. Successful contract management reflects its impact on revenues, since it is through revenue forecasts that financial risks are assessed and ultimately managed.

Billing and collection are efficiently done. In dealing with multiple contracts, a company can't afford to let minute details slip through the cracks. Payables and receivables must be kept on the right track.

Intellectual properties (IP) are protected. Contracts must address the IP issues that are needed to run activities smoothly to make sure that they are done in a lawful manner.

Chances of renewal are improved. To ensure that contracts are tailored to the changes in a client's business, a contract renewal is often needed, and duly fulfilling your obligations may boost your way to success.
Taking stock of these tenets should permeat throughout the enterprise, observing them at every level of a contract lifecycle.
Contract Lifecycle
Contract lifecycle management is done in order to track and assess success factors in every stage of a contract's life cycle (from initiation to renewal to expiration). Each "stage" appears to have its own unique set of characteristics. At moodLearning, we tend to get rid of excess fats in the spirit of keeping our processes simple and our organization lean. Here's how we do it in terms of stages. These, however, can be customized by our clients to tailor to their needs.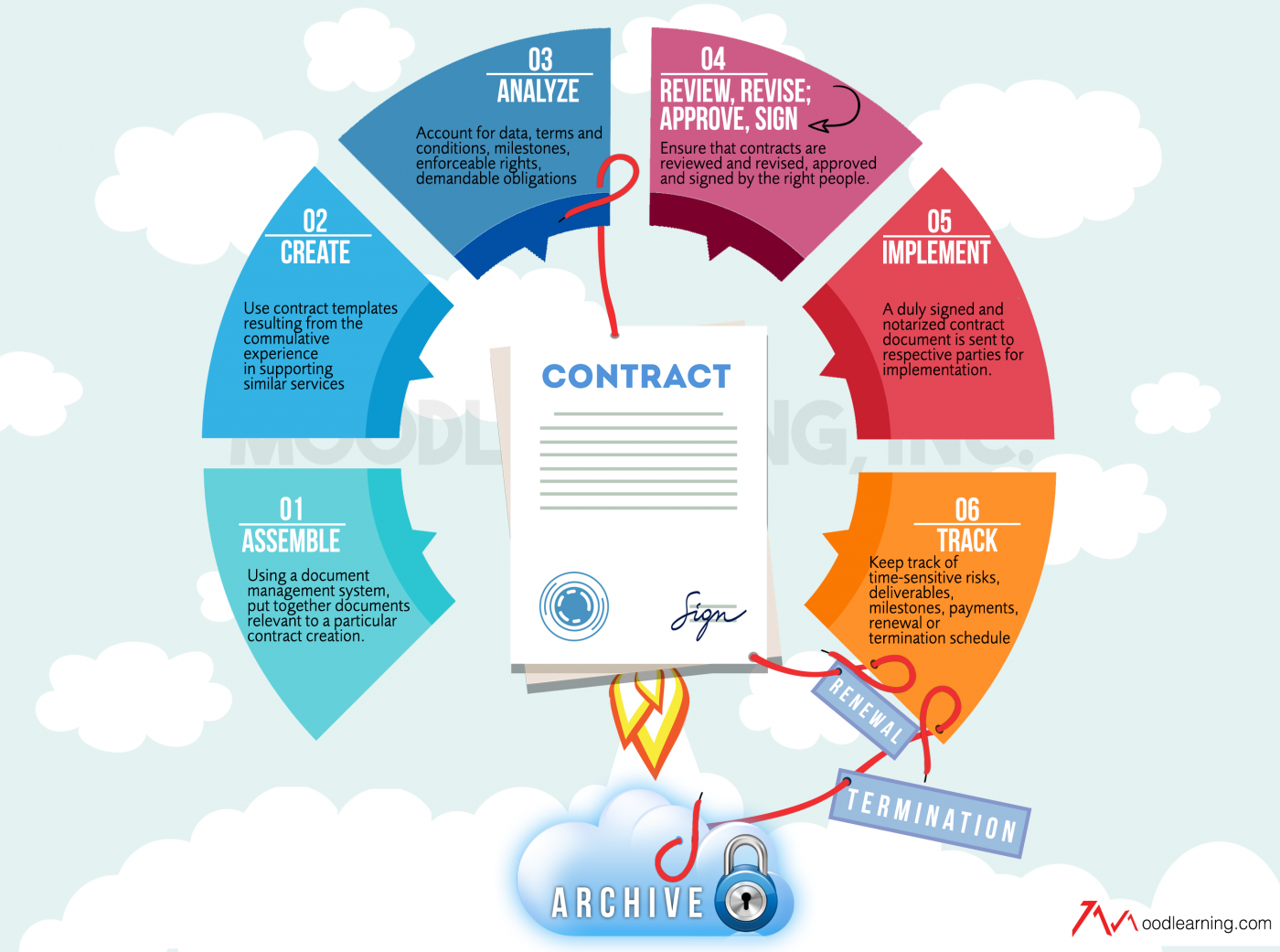 Assemble. All papers or documents relevant to the creation of a particular contract (e.g., business requirements from the client, previous similar contracts, etc.) are put together. This is preferably done through a document management system. The right references and expertise for the task must be assembled. The point person for this step would be someone from your support staff.

Create. A contract is created using a company template resulting from the cumulative experience in selling and supporting a particular company, product or service. New contracts need fresh input from business and project managers, especially on resources needed for better project estimates and project execution. It's also an opportunity to take a fresh look at pro forma clauses, terms and conditions. Special attention should be given to delivery schedules, reports, and dependencies.

Analyze. Information or data that are specifically important to the contract creation at hand are accounted for. Also considered are identified milestones, enforcible rights, and demandable obligations, etc. In this stage, inputs are needed from business and project managers.

Review and Revise, Approve and Sign. No such thing as instantly perfect document, contract or otherwise. Make sure that contracts are reviewed and revised. Then they must be approved and signed by the right people. A review workflow needs to be established beforehand. It is useful that these contracts be reviewed with a fresh eye that is familiar with business and competing products and services.

Implement. A duly signed and notarized contract document is sent to respective parties for implementation. At this stage, a document manager needs to validate the controlling copy of the contract whose project deliverables are communicated to the project managers on both the moodLearning and the client sides.

Track. Risks, deliverables, milestones, payments, and renewal or termination schedules are tracked. An alert system must also be developed especially for time-sensitive risks. Indicators are put in place to trigger renewal or archival of contracts. If the former, the cycle goes back to the Create and Analyze stages to check for qualitative contextual changes that may impact the terms of the contract.
In the end, contracts are only as good as those who abide by their terms or enforce them. But a tool like our Contract Management System can make all the difference in the ease with which we are governed by the contracts we enter into. Such system can help us monitor and abide by the terms of contracts more faithfully.
Talk to us at moodLearning if you feel you need help in managing your contracts.